Lest anyone think that Student Robotics isn't a global phenomenon, here's a wonderful little article from China Daily...


"Building young minds of the future with all-things-robotics (China Daily)Updated: 2014-11-10 09:35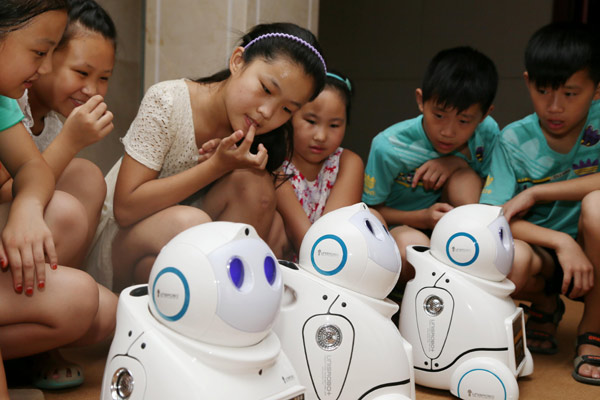 Students watch intelligent robots developed by a Beijing company for use in education, elderly care, household chores and security purposes. [Photo / Providede to China Daily]
China is embracing high-tech products like never before, and the country's love of robotics especially has meant a surge in the number of companies determined to find the next big thing to attract high-spending consumers.
One of brightest prospects of recent years has been Union Brother Technology Co Ltd, or UB Tech - a Shenzhen-based enterprise set up in 2008 that specializes in manufacturing robotics that help children learn.
Liao Ke, its deputy general manager, explains the company has developed a range of products that allow children to sort, count and connect any number of different types of building bricks into whatever they want.
Liao said that ever since US blockbuster films such as Transformer were introduced to China, children have had a fascination with developing and building their own toys, which inevitably end up looking like futuristic machines.
Already partnering with retail giants JD.com, Tencent Holdings Ltd and the Walt Disney Co to sell its products, UB Tech has sold more than 1,000 units of its Alpha Intelligent Robot this year and expects to increase that to 50,000 next year, according to Liao.
More than 100 digital stores already sell its products across China, and Liao says he hopes to add another 400 by the end of next year.
The company claims its Delta robots now have a 70 percent market share among similar gadgets in the Chinese market.
"Children love it, and so do schools and training institutions, which form a key market for these products." Liao said.
This demand to bring robotics into the classroom has also spurned a huge rise in the number of courses being run by educational organizations.
Hou Jinggang, the president of Beijing Roborobo Education Technology Co Ltd, introduced South Korea's largest educational robot provider and training institution to China six years ago. Roborobo manufactures various educational Robo Kits that work in succession in order to expand a child's knowledge of robotics.
Roborobo now has 36 main institutions and 62 franchises in more than 22 cities across the country, taking in students as young as four years old. The average annual revenue of one institution is 22 million yuan ($3.6 million).
Simply explained, their programming uses visual punch cards that contain code blocks. Students can program their robots simply by adding and removing cards..."
Read the full article at its source:
http://www.chinadaily.com.cn/business/tech/2014-11/10/content_18892352.htm